Welcome to Yugawara Ohnoya Ryokan
If you are looking for something different than a typical hotel, Yugawara Ohnoya Ryokan is a great place to make your stay a memorable one in Japan. Ryokan is a Japanese traditional hotel where you can relax in an onsen (hot spring) and enjoy traditional Japanese cuisine in your private tatami room. We provide the best quality of natural hot spring water in Japan and serve Kaiseki (Japanese cuisine) made with fresh seafood from the nearby harbor.
Yugawara Ohnoya Ryokan is located in a very convenient place. It only takes about 2 hours by car or about 90 minutes by JR Tokaido rapid train from the heart of Tokyo. Once you reach Yugawara, you will love this beautiful place. We are surrounded by mountains, a river and can reach the beach easily. It is also close to other sightseeing spots; Izu, Hakone, Shonan and Kamakura.
We welcome our guests with omotenashi spirit (Japanese Hospitality).
Never too close, never too far away.
Hotel Name
Yugawara Ohnoya Ryokan
Address
231 Izumi, Atami, Shizuoka 413-0001, Japan
TEL
+81-465-62-6111
(9:00am~9:00pm/Japan time)
FAX
+81-465-62-6115 (24 hours)
Check-in
3:00pm-6:00pm
Check-out
10:00am
We ask all our guests to provide your name, home address and occupation when registering at Yugawara Ohnoya Ryokan. For foreign national guests, who do not reside in Japan, must present a passport to make a copy. We ask for your understanding and cooperation.
Hot springs
The baths at Yugawara Ohnoya Ryokan are filled with some of the best quality hot spring water (onsen) in Japan. We have a natural hot spring (onsen) in an open-air bath.

Our open-air baths will light up in blue during the night and make you feel like you are dreaming. Enjoy our stone baths which is carved carefully from a natural huge stone. The large indoor bath also has a large window that creates an open atmosphere.

You can relax in the baths watching the beautiful nature of the Hakone mountains and the great outdoors of Yugawara. You can enjoy this scenery from the indoor cypress baths, ceramic baths and the large bath. Enjoy this incredible atmosphere.
Panoramic open-air bath

(Reservation and extra fees are required)
The panoramic open-air bath is on the top floor of our Ryokan. You can enjoy the hot spring bath while gazing at the Hakone mountains, the great outdoors of Yugawara and if the weather permits, you might see a starlit sky.
(Reservations and extra fees are required)
Reservation required 45min 2,200yen 4:00pm~9:00pm Start

Dining
Kaiseki cuisine prepared with the passion of Japanese chefs
We serve our Kaiseki cuisine with seasonal, fresh and plentiful seafood from the bountiful waters of Suruga and Sagami Bay. Enjoy a leisurely dinner in your room or dining area. Traditional Japanese cuisine will be prepared our top Japanese chefs.
| | |
| --- | --- |
| Breakfast | 8:00am-, 8:30am- |
| Dinner | 5:30pm-6:30pm start, 8:30pm last |
| Menu | Japanese meal only |
Recommendation from the head chef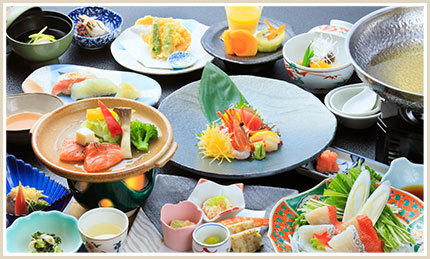 Hikaeme kaiseki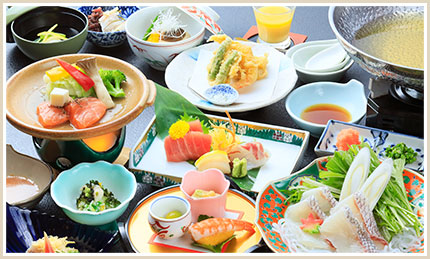 Rooms
Enjoy wearing a yukata (traditional Japanese robe) and relax in a tatami room. Tatami mats feel good on your bare feet.
Chiyoda Wing Standard Japanese Room

(Or Japanese-Western Room)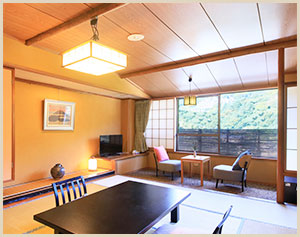 Our rooms in the Chiyoda Wing are comparatively large. An elevator has been newly added to enable easy access for people with disabilities and the elderly. We recommend this room for families and groups.
Standard Japanese Rooms
with Private Cypress Bath
(8 mat size)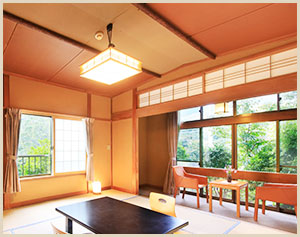 This 8 tatami mat Japanese room comes with a private indoor bath made of cypress wood.
You can enjoy your personal hot spring bath without being bothered. The water temperature can be adjusted as well; therefore it is suitable for everyone.
Standard Room with Private Toilet

(No bath)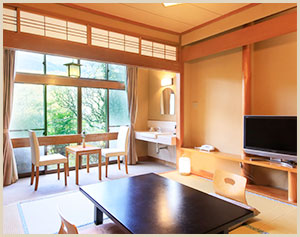 With a great view of the outer rim of the Hakone Mountains that faces the Ryokan, these peaceful Japanese rooms are suited for guests who do not want a private bath and like to enjoy the common area bath.

Room
Overview
Rooms
16 rooms in total(15 Japanese rooms, 1 Japanese-Western room)
All rooms are non-smoking. Please use the smoking booth in the lobby when smoking.
Features
Every room has a private toilet, hair dryer, air conditioner, TV, refrigerator, alarm clock and a safety box.
Amenities
Yukata (Traditional Japanese robe), towels, bath towels, toothbrush, shaver, body lotion, shower cap, comb and Tabi (Japanese traditional socks)
* amenities vary by plan.
* 9 rooms are with private hot spring baths (6 of them are made with Cypress wood)
* Wi-Fi is available for free all of guest rooms via a wireless LAN. Please use at your own risk.
Access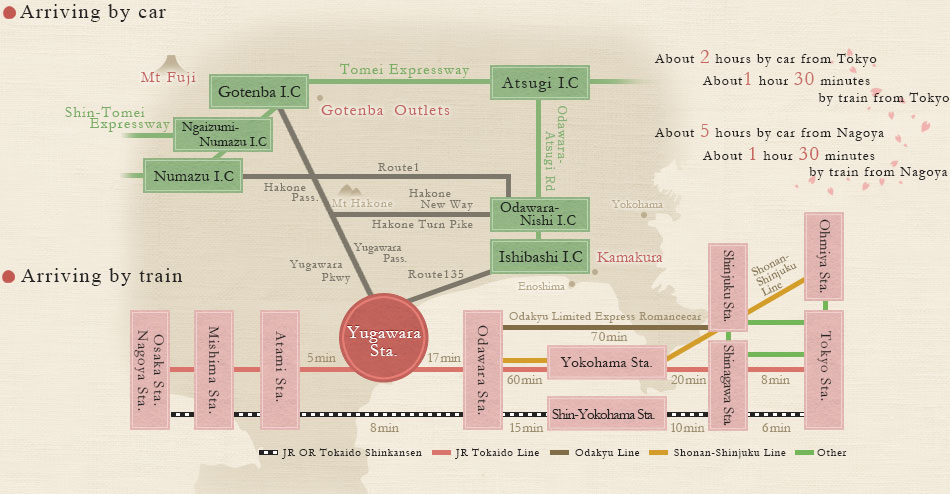 Arriving by car
Arriving by train
Relatively close to Mt. Fuji,
Historic City of Kamakura, Hakone and Gotenba
Yugawara Ohnoya Ryokan is located in a very convenient place. We are close to Hakone where you can see the World Heritage site Mt. Fuji, easily access to the well-preserved ancient city of Kamakura and can enjoy shopping at the outlet malls in Gotenba. Rental cars are a convenient for getting to and from Mt Fuji and Gotenba Premium Outlets.
(An international driver's license is required to rent a vehicle and drive in Japan.)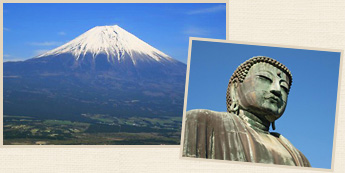 Cancellation Policy
Our cancellation policy is as follows: Reservations made online should be cancelled from the website where the reservations were originally made. (Otherwise, a cancellation fee will be required.)
Payment is accepted only by credit card, therefore your cancellation fee will be charged to the credit card on file.
In the case of 14 or less persons
| | | | |
| --- | --- | --- | --- |
| Cancellation day | 7 to 2days prior | Day before | Day of |
| Cancellation fee money | 20% | 50% | 100% |
In the case of 15 or more persons
| | | | | | |
| --- | --- | --- | --- | --- | --- |
| Cancellation day | 14 to€ 8 days prior | 7 to€ 5 days prior | 4 to€ 2 days prior | Day before | Day of |
| Cancellation fee money | 20% | 30% | 40% | 50% | 100% |
Cancellation fees for the New Year's Period (December 31 to€ January 3) are separately stipulated.